Luxury Spa Interior Design
LUXURY SPA INTERIOR DESIGN SERVICES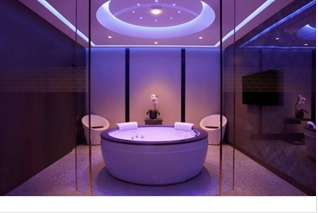 Brandt Design Groups focus and passion is driven by creating functional, safe and healing environments within healthcare facilities – from acute care hospitals to clinics and all building types in between. These services consider the unique requirements and challenges of healthcare settings to optimize patient care, staff efficiency, and overall wellness for all. We collaborate with healthcare professionals, executive level management and architects to assist in developing spaces that help promote cleanliness, infection control, privacy and comfort. We carefully plan appropriate flow and function – from waiting areas, consultation rooms, nursing stations, patient rooms and specialized care areas. Appropriate materials, finishes and furnishings that are hygienic, durable and easily maintainable are top priority. We incorporate wayfinding elements, comforting color schemes, appropriate lighting and access to nature to create a healing and supportive environment for patients, families, friends and staff.
Creation of luxurious and serene atmospheres
Integration of wellness-focused design elements
Incorporation of upscale furnishings and decor
Designing private and comfortable treatment rooms
Implementation of soothing lighting and ambiance
Collaboration with spa professionals and stakeholders to meet specific needs and requirements
Attention to privacy and relaxation elements focusing on tranquility and healing
Customized design solutions to reflect the spa's brand and identity
The ultimate goal is to enhance the overall patient experience, facilitate effective medical care and contribute to the well being of all who enter the healthcare facility.