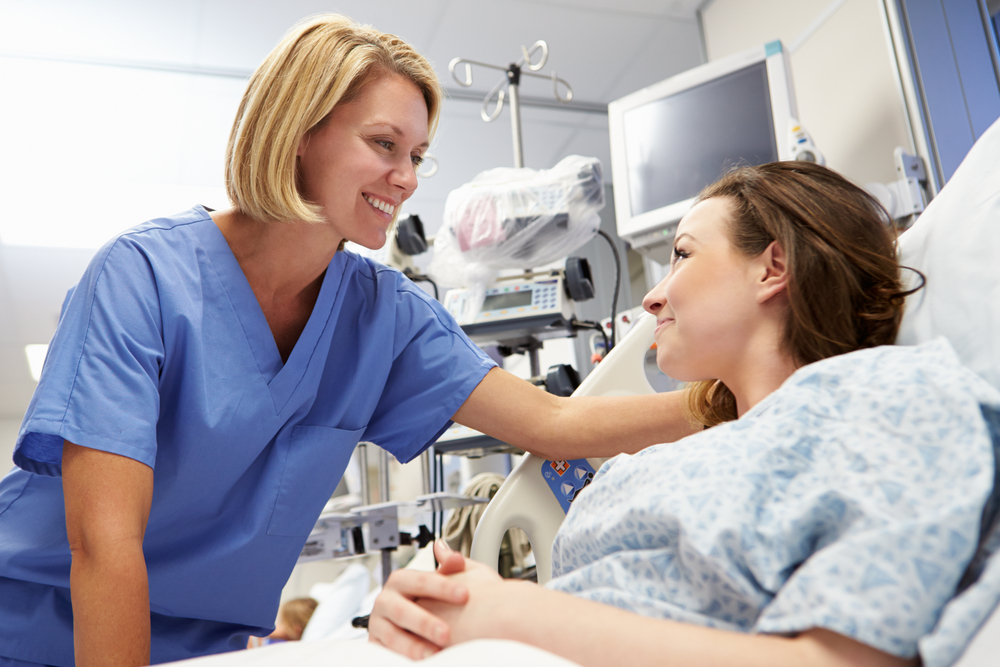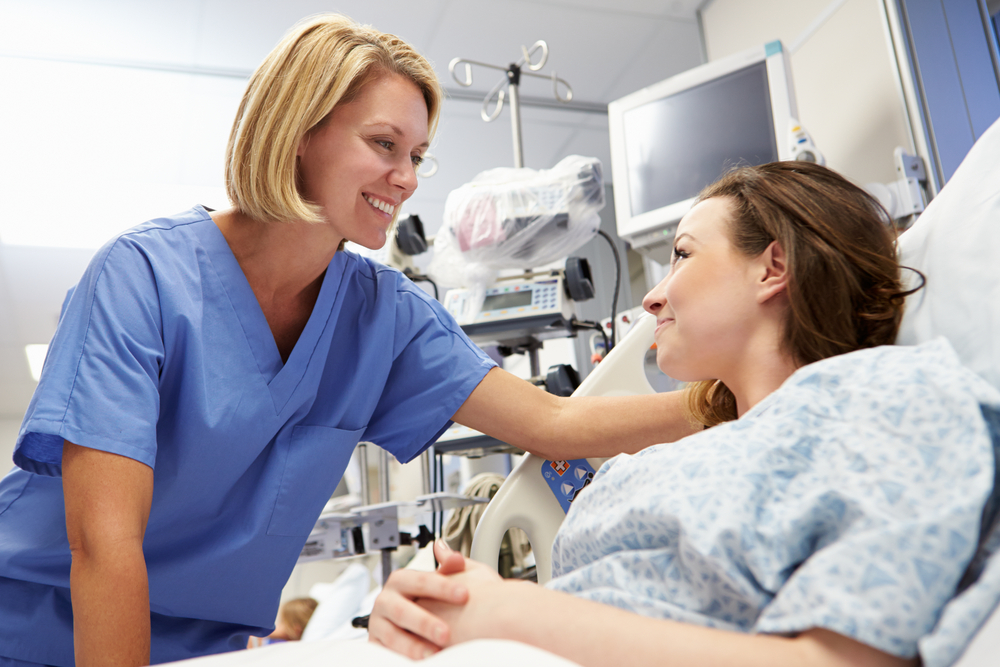 Healthcare designers often share beautiful photos of their recent projects and rightfully so. We love to see the warm, inviting spaces that are so thoughtfully designed, and such a stark contrast to relic healthcare facilities. Every experienced healthcare designer knows that behind the warm, interior, at the core of healthcare design is infection control. And, it's only because of innovative design and technology that today's spaces can be warm, inviting and Instagram worthy.
The past, present, and future of infection control in healthcare design helps us understand how and why designers can make the decisions they make today and help us gauge what is on the horizon.
Infection Control is a Top Priority
Infection control is an important element of healthcare design. In terms of priority, it falls just below the budget. Why you might ask? Because if there is no way to prevent infection, hospitals and other healthcare facilities simply would not exist. They would not be viable because the cost of infection is too hard to overcome. To put it into perspective, understand that a community acquired contamination, such as staph infection in a hospital on average, doubles the patient's length of stay, the death rate and medical costs of typical hospitalizations. The increased direct medical costs per patient is estimated to be $35,300 extra. If facilities can't prevent the spread of infections, they can't exist.
The Past and Present Design Techniques Used to Control Infection
Research and technology have drastically changed the landscape of infection control in healthcare design. In the past, healthcare design meant stripping down anything extra. Space was bare and sterile, and it needed to be in order to prevent infection from spreading.
Today, innovation and technology have improved the materials designers need to create a space. Designers can choose from a wide array of flooring, walls, furniture, fixtures and casework. These new products stand up to harsh sterilizing chemicals, can be wiped down and are robust enough to last a long time. This progression allows designers to bring color, texture and durability into a once stark, sterile, unimaginative environment.
Examples of Materials that Prevent the Spread of Infection
Furniture: Nemschoff, a healthcare furniture company, that sells a chair made with 'wipe-out design', which both prevents the chair from collecting debris and makes it easy to clean.

Flooring: Johns Hopkins Hospital in Baltimore decided to remove the carpeting in some of its facilities and tested 20 different flooring options to meet its goals, which included infection control and cleanliness.

Fixtures/Casework: Another example is the use of copper fixtures and copper embedded surfaces because of the germ-killing properties found in copper. Sentara Healthcare added copper-infused materials in a systemwide overhaul of its inpatient rooms at its 12 hospitals. Microbes, even ones that have become resistant to antibiotics, don't fare well against the metal because it destroys the microbes at a cellular level on contact.
Layout Examples that Prevent the Spread of Infection
Research and data-driven insights have shown that materials aside, a room's layout can drastically improve infection control efforts.
Private Rooms: In the past, hospital design focused on reducing costs by making healthcare facilities smaller and thereby kept patients nearer to one another, sometimes even in the same room. This would also allow quick and easy access to patients. But modern healthcare design and architecture has shifted away from this view and instead focuses on private patient rooms. This prevents the spread of infection and has a direct effect on the perceived quality of care from the patient's perspective. Consider it a win-win.


Hand-Washing Stations: Another technique that is taken care of in the room layout is the placement of handwashing stations. Healthcare designers found that placing the sink/handwashing station by the patient entry door helps staff wash directly upon entry. This reduces the spread of infection by isolating breakouts to individual patient rooms.
Today's emphasis on materials and layout to prevent infection control gives designers a much larger pool to draw from when creating a design. But what is on the horizon?
The Future of Infection Control and What it Means for Healthcare Design
Just as technology has changed today's approach to infection control and healthcare design, the same is true for the future. New technologies are being tested that will allow clear, germ-fighting coatings to be installed on almost any surface. There are two main applications emerging on the market. One is a clear cover that can be shrink wrapped onto hard surfaces. The other can be sprayed on. Both products have unlimited potential and will help drive the cost of healthcare design down while improving infection control effectiveness.
The germicide coatings mentioned above can be applied to door handles, grab-bars, railings, push plates and other areas that people touch frequently. The sprays can cover textiles, masks, gloves and carpeting. They can also be added to wall paint and primer products to inhibit the growth of pathogens in facilities. As these new germicide coatings are installed, the way healthcare facilities are cleaned will drastically change. The powerful cleaning agents and disinfectants often used may no longer be necessary. This new approach would open an array of design and environmental possibilities, drive costs down, improve efficiencies and reduce environmental impact.
The innovation of new materials and insights gained from extensive research has and will continue to change the way healthcare designers approach a project. Today, we can pull from a vast variety of innovative materials that help us create warm, inviting and healing environments because of the advances in technology. We can justify the costs of private patient rooms because of data-driven insights. And, in the future, we will be able to secure an even more efficient environment using technologies to come.
Deborah Brandt is the founder of Brandt Design Group. The award-winning design firm offers high-quality interior design solutions with an emphasis on healthcare design. Deborah Brandt believes that the most important aspect of healthcare design is to create a caring, effective, safe, and patient-centered environment. She can be reached by email or phone.
Sources:
Rubin, R. J., Harrington, C. A., Poon, A., Dietrich, K., Greene, J. A., & Moiduddin, A. (1999). The Economic Impact of Staphylococcus aureus Infection in New York City Hospitals. Emerging Infectious Diseases, 5(1), 9-17. https://dx.doi.org/10.3201/eid0501.990102.
Jeff Ferenc. "What Johns Hopkins Learned after Its 90-Day Flooring Study." Health Facilities Management, 2017, www.hfmmagazine.com/articles/2791-what-johns-hopkins-learned-after-its-90-day-flooring-study.
Sun, Lena H. "The Bacteria-Fighting Super Element That's Making a Comeback in Hospitals: Copper." The Washington Post, WP Company, 20 Sept. 2015, www.washingtonpost.com/national/health-science/the-bacteria-fighting-super-element-making-a-return-to-hospitals-copper/2015/09/20/19251704-5beb-11e5-8e9e-dce8a2a2a679_story.html.
Nemschoff, 2019, www.nemschoff.com/products/ava-recliner.
"Safe Handles." SafeHandles, 2019, safehandles.com/.
"Shield." Surface Casework, 2019, www.shieldcasework.com/