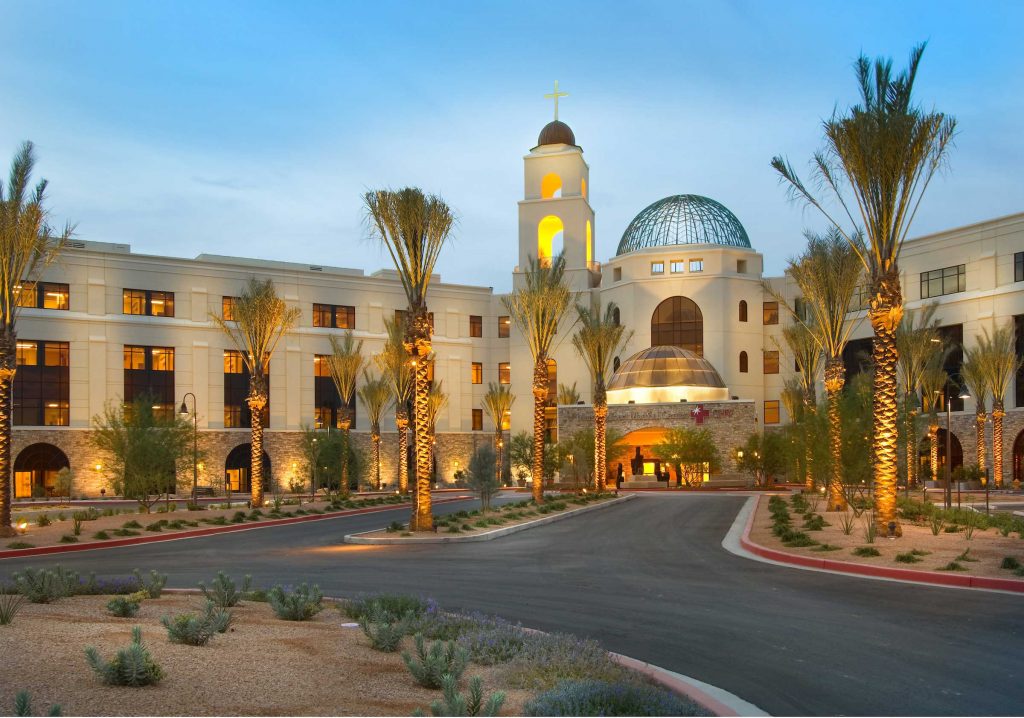 The Mercy Gilbert Medical Center in Gilbert, Arizona is an oasis in the desert. The city of Gilbert has experienced extremely rapid growth since the 1980s and, as a result, required a medical facility as beautiful as it was functional. In addition to a beautiful design inside and out, the hospital is known for its acute care and top-quality surgical care for its patients. The designers included elements from the natural desert environment and the local farming community. These natural elements can be seen in the rich colors, woods, stone, and textural finishes of the hospital.
The architect for the project was Moon Mayoras Architects of San Diego, CA. Brandt Design Group provided full services including design development, construction documents and construction administration, furniture selection/planning and art coordination. The Mercy Gilbert Medical Center was initially built with 188 beds, but an expansion project in 2009 added two operating rooms and 24 new beds.
The CEO had this to say about the hospital
"At every turn, aesthetics and care were woven together. The design team took advantage of the beautiful desert flowers and skies in much of the artwork, colors and materials that flow throughout the hallways, patient rooms and public spaces. Community members speak of the grounds as having the atmosphere of a resort; indeed, the Gilbert Chamber of Commerce gave its first beautification award to Mercy Gilbert Medical Center." – Laurie Harting, former CEO, now Senior VP, CEO Greater Sacramento Division, Dignity Health/Common Spirit Health
Design Features
When patients visit Mercy Gilbert Medical Center, they are greeted by palm trees and other desert plants. The facility also features several domes that cover the entryway of the hospital. A proud cross stands tall over the entire building. The main lobby is designed with beautiful archways, rich sand tones and rustic clay colors. The culture of the city of Gilbert can be felt throughout the hospital.
The hospital's corridors and rooms feature pastel purple, cool blues, sage green tones and more rich sand colors. Waiting rooms and patient rooms bring together all of the colors in a calm, soothing combination with uplifting and vibrant pops of stronger accents throughout the spaces.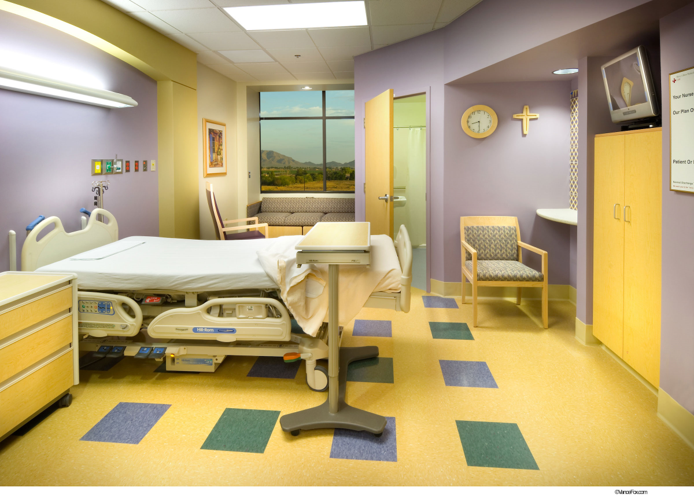 Mercy Gilbert Medical Center also features a beautiful chapel. It has a light wood theme and abundant lighting throughout. Custom stained-glass windows and intricate wood carvings enhance the positive environment. Additionally, a feeling of heaven is experienced through the circular ceiling feature.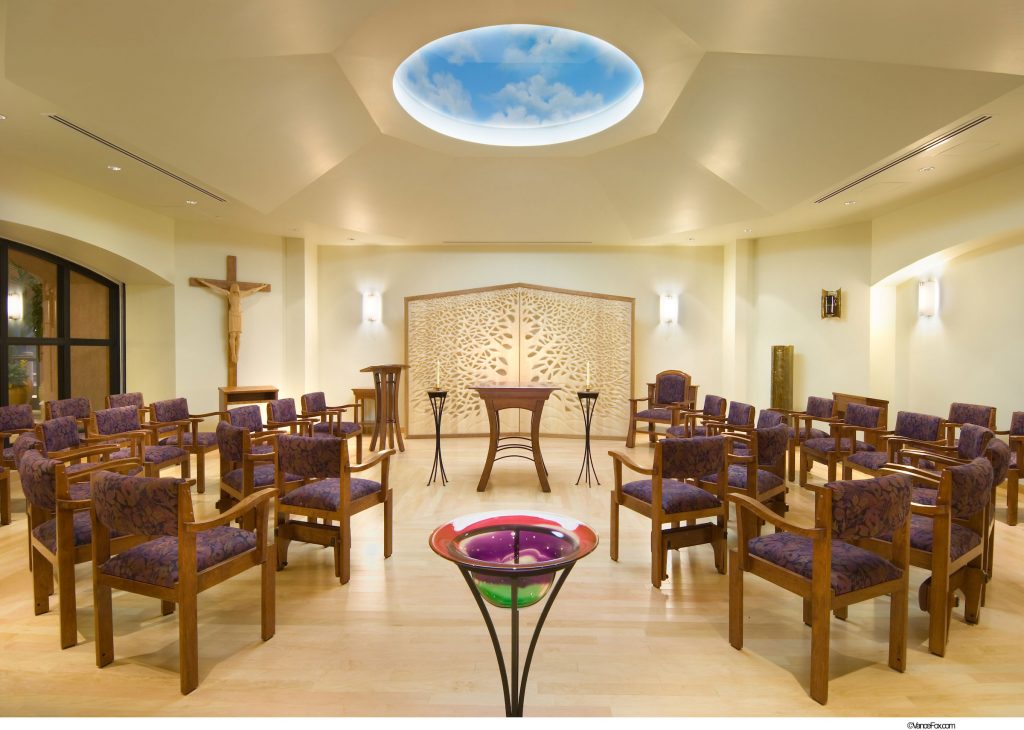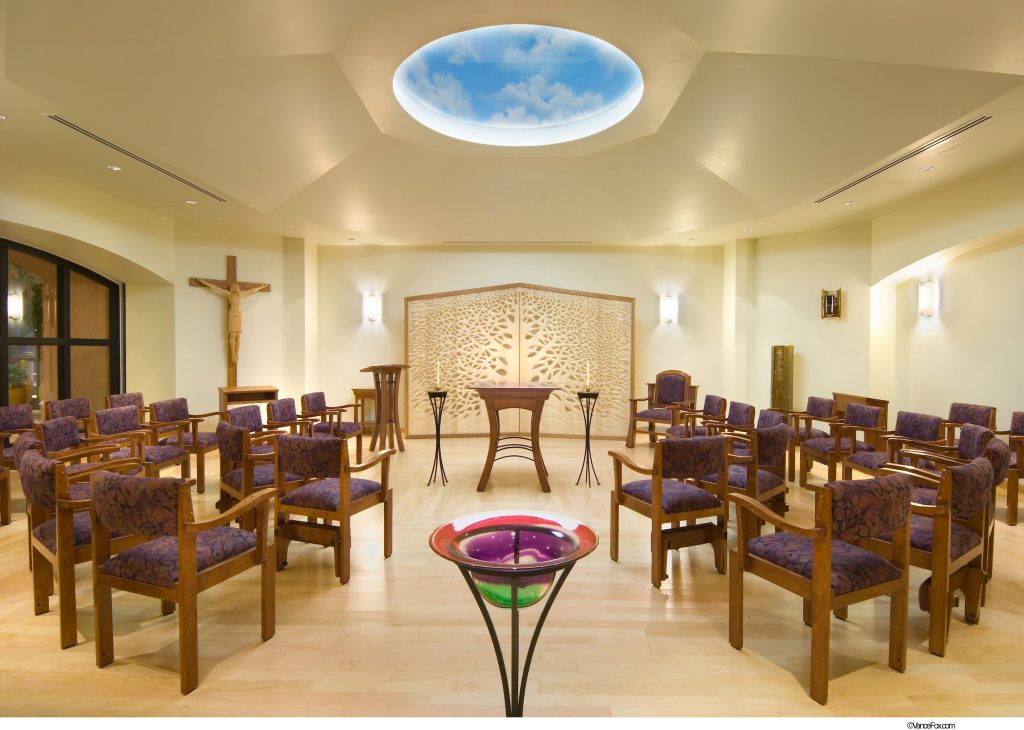 About
The facility is approximately 300,000 sq. ft. It is a full-service, 212-bed, acute care, not-for-profit hospital that provides medical services to the people of Gilbert and the East Valley of the Phoenix metropolitan area. Mercy Gilbert was ranked the third best acute care, under 267 bed hospital in Arizona by AZ Big Media. The ranking was based on a comprehensive business opinion poll. The hospital has been accredited by the Metabolic and Bariatric Surgery Accreditation and Quality Improvement Programs (MBSAQIP). This accreditation is from experts for high-quality surgical care.
Services
The services offered by Mercy Gilbert include cardiovascular, emergency, family birth center, gastroenterology, pediatric and adolescent, sleep center, orthopedics, and diagnostic services. The hospital is one of Dignity Health's 39 hospitals. Dignity Health is a not-for-profit public-benefit corporation that operates hospitals and other medical facilities throughout Arizona, California and Nevada.
Awards
Dignity has received numerous awards, including top pneumonia care in the state of Arizona, Best in Sepsis Award for 2016, Midas Platinum Quality Award Winner 2015, and various others. Additionally, in 2019 US News and World Report Best Hospitals, it tied at #8 in Arizona, and #6 in Phoenix.
Deborah Brandt is the founder of Brandt Design Group. The award-winning design firm offers high-quality interior design solutions with an emphasis on healthcare design. Deborah Brandt believes that the most important aspect of healthcare design is to create a caring, effective, safe, and patient-centered environment. She can be reached by email or phone.
Sources:
Dignity Health. "Awards & Recognition." Awards & Recognition | Mercy Gilbert Medical Center | Dignity Health, 2020, www.dignityhealth.org/arizona/locations/mercygilbert/about-us/awards-recognition.