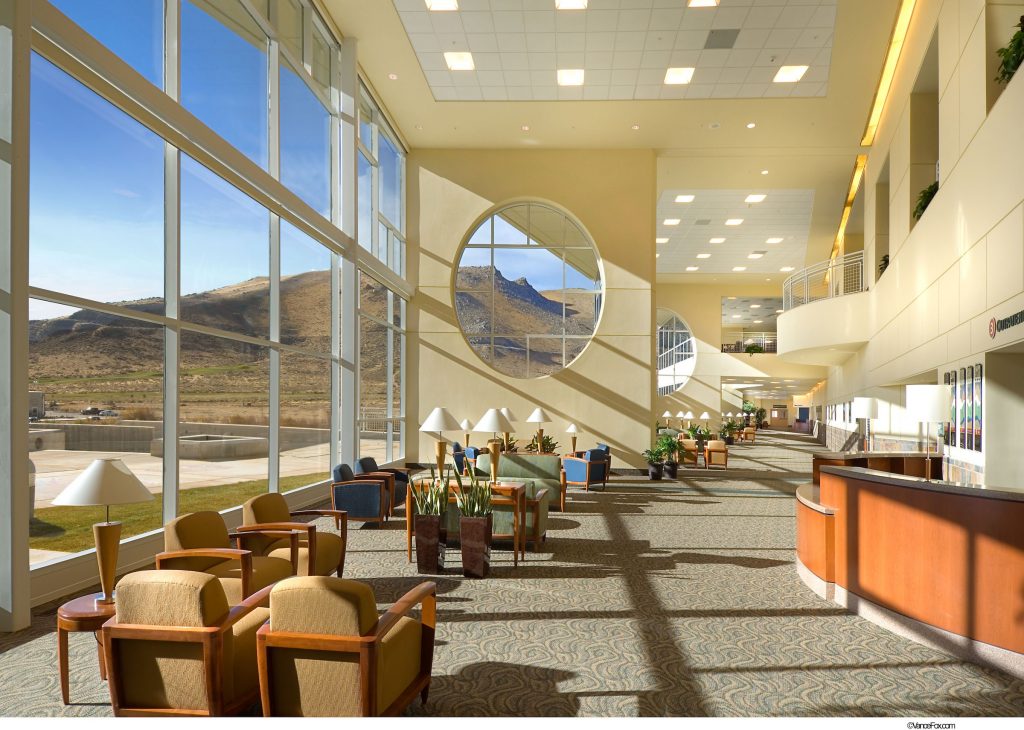 An uplifting environment can assist patients at every step. Whether they are seeking treatment for the first time or in the recovery process, an uplifting environment will help them maintain a positive outlook and stay upbeat.
Natural and Soothing Design at Every Step
Research shows that patients surrounded by nature and biophilic design experience a psychological boost. These boosts can aid in healing. While the healthcare industry does an incredible job treating a wide array of illness, sometimes important aspects of patient care such as the environment are overlooked.
Providing a natural and soothing design at every step is a sure way to improve patient outcome. For example, some people have a fear of doctors and hospitals in general and wait anxiously in the waiting area. A soothing and welcoming environment may soothe the patient and abate many of those fears.
Patients will subconsciously absorb their surroundings and the psychological state of a patient can have an impact on the outcome. Therefore, healthcare designers have a huge opportunity to create an uplifting environment that helps patients.
Case Study: Carson-Tahoe Regional Medical Center – Carson City, Nevada
Deborah Brandt from Brandt Design Group. Inc. worked as a consultant to Moon Mayoras Architects of San Diego. The project: Carson-Tahoe Regional Medical Center located in Carson City, Nevada.
The Carson Tahoe Regional Medical Center is a pristine 352,000 square foot healthcare facility sitting on an 80-acre medical campus. The hospital includes acute care and private rooms, 24-hour emergency services, advanced medical imaging, an acclaimed open-heart surgery program, 5-star Women's & Children's Center and other medical services.
An Uplifting Environment for All Patients
As patients arrive at the Carson Tahoe Regional Medical Center, they will be taken aback by the beautiful scenery. The hospital was designed so that every single patient room has a 180-degree view of the serene Sierra Nevada range. Both maple and medium cherry wood tones are found throughout the facility and it is accented by a soothing color palette that blends in perfectly with the natural northern Nevada landscape.
The corridors of the hospital are lined with generous windows that allow sunrays to fill the facility with natural light. The windows also provide a seamless transition from the surrounding natural world to the interior of the hospital. The color schemes chosen throughout the hospital match the four seasons that Carson City is so well known for. There is also an abundance of art installations provided by local artists. Patients, family, and friends are encouraged to tour the hospital to experience many of the original art pieces using an art tour book that provides insight into the artist background. The tour book also includes the artist's concept explanation behind the one of a kind pieces that were created especially for Carson-Tahoe Regional Medical Center.
Project Requirements:
Interior and Architectural Design – Schematic Design, Design Development, and Construction Documents
Donor Wall Concept
Signage Concept
Construction Administration
Furniture Planning, Selection, Purchase and Installation Coordination
Artwork Selection, Purchase and Installation Coordination
General Contractor:
Aecom Hunt (formerly Hunt Construction Group)
The Result – Beauty Combined with Top Tier Medical Services
Soliant Health rated the Carson-Tahoe Regional Medical Center the fifth most beautiful hospital in the United States in 2014. The hospital is also one of the country's Baby-Friendly Hospital, making it an ideal environment for expecting mothers.
The Carson-Tahoe Regional Medical Center provides an uplifting and soothing environment within which patients can recover. The transition from the beauty of the Sierra Nevada mountain range to the soothing interior design of the facility gives patients the feeling of serenity and calmness often associated with the outdoors. The interior design of the hospital helps to promote wellness and a sense of calm in all patients, their family, and friends.
See additional Brandt Design Group Projects
Deborah Brandt is the founder of Brandt Design Group. The award-winning design firm offers high-quality interior design solutions with an emphasis on healthcare design. Deborah Brandt believes that the most important aspect of healthcare design is to create a caring, effective, safe, and patient-centered environment. She can be reached by email or phone.